Managing Multiple iTunes Libraries
I have a separate iTunes library of royalty-free music that I have licensed from Fresh Music. I use this in the final stage of video production. Here is the workflow I have developed to do that. - by David R. Beebe

I have a separate iTunes library of royalty-free music that I have licensed from
Fresh Music
. I bought my first CD of music from them in 1994 and have amassed a large collection over the years. I use this in the final stage of video production. For switching libraries, I've developed the following workflow... this is for OSX 10.6.8 but should work on OSX 10.7 also. By switching to this iTunes library, all of those songs and playlists show up in the music tab of Final Cut Pro X.
In Finder, I have my "documents/music" folder in the sidebar for quick access. It is one of the standard sidebar "Places" from Apple.
In that folder I have created an alias for the folder containing my secondary iTunes library. This library is on an external disk and it saves me from having to navigate to it. Go to that location, select the folder and right-click then pull down to create alias. Drag this file the to "document/music" folder. It should be along side your main iTunes library folder and not inside the main library's folder.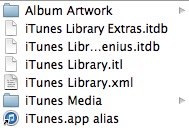 In that folder I have also placed an alias for the iTunes application. I hold down the Option key while double clicking this application alias. This works consistently whereas I have problems getting the shift-click key combination to work, especially from the Dock.
When iTunes prompts me to select a library, it starts at my Music folder and I only need to select the library I want from the documents/music folder.
The only caveat I can think of is to always start iTunes with the correct library before connecting your IOS device to sync it. At the very least, disable the auto launch of iTunes when connecting it.